About The Woodsmeister and Other Links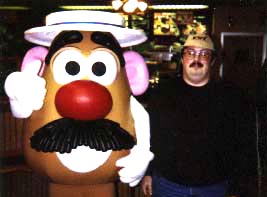 I'm Greg Grant, your host. I'm 37 years old, I live in Columbus, Ohio, and I work as a desktop publisher/editor/webmaster/"the computer guy who knows just enough about computers to be dangerous who occasionally can solve the problem" at The Danter Company, a small real estate research company. I am a graduate of Otterbein College, with a graduate degree in English Literature from the University of Cincinnati.
Why the Woodsmeister? It's my "secret" identity. Every year, I volunteer to direct a week of camp for 6th and 7th graders at Camp Wanake, a church camp affiliated with the East Ohio Conference of the United Methodist Church. The name for the program at that level is Woods Camp. As a joke several years ago, I insisted at the beginning of the week that I was not the Woods Director, but, rather, "The Woodsmeister." It stuck. Now, it serves as a handy alias to use on the web.
I am a member of Church of the Saviour United Methodist in Westerville, Ohio, where I maintain the web site, sing in the choir and teach an adult Sunday School class.
I am also a Type II diabetic.
Among the other things I do in my spare time:
I sing in the Columbus Symphony Chorus (Tenor I). We do major classical choral works with the Columbus Symphony, and are featured each year in one concert where we typically do shorter choral works.
I participate in the Orphans of God mailing list, which is a community of folks who think the late Mark Heard was a really cool musician, and in his honor we talk about God, life, the universe, and everything.
I participate in a book club, where we meet at a member's home every month. Sometimes, we even talk about the book.
I have a nearly complete (I'm only missing two episodes) collection of tapes of Mystery Science Theatre 3000.
I write poetry.
I also occasionally write humorous/satirical/thoughtful prose pieces.
I have an extensive collection of good music, mostly of relatively obscure Christian and folk/singer-songwriter artists. I hope to post occasional reviews.
I volunteer regularly at WCBE-FM, the coolest radio station in the known universe.
I follow all Cleveland sports, and regularly think evil thoughts about Art Modell for which I must ask God for forgiveness. I have been following the Indians for well over 20 years, even when they were the laughingstock of baseball.
I run, for fun, the Online Folk Festival, an online radio station that finally is a use for 20+ years of collecting obscure music
I am a proud uncle.
Instant Adventure
Home of the Original Kirk Hasenmueller Instant Adventure.
John Deever is an acquaintance of mine and former member of the book club who wrote a book about his experiences in Ukraine with the Peace Corps. It is ready to be published and awaiting a suitable publisher. His web site has an excerpt from the book.